TEFL Jobs in Korea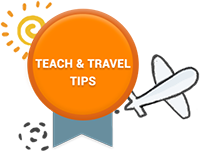 Korea is one of the most popular destinations for teaching English anywhere in the world as there are always plenty of jobs available. Another reason for its popularity is that the salaries teachers can earn here are amongst the highest to be found anywhere. The cost of living is also relatively low so teachers have a good opportunity to save considerable amounts of money. Teachers can earn as much as $6000 US per month, providing you are willing to work overtime that is.
How to Find TEFL Jobs in Korea
TEFL Jobs are available throughout the country in state run universities and private English language schools known as hagwons. The majority of teachers find work in one of these hagwons as there are thousands of them all over Korea. The main centres for TEFL work are in Seoul and Busan, although you will also find opportunities in many smaller cities and towns across the country.
If you decide to work in Korea, it is advisable to research any schools or recruiting companies that offer you employment. The best way to do this is to contact the local expat teaching community in your preferred area via online forums, or if you are in the country, you should find out where expat communities hang out as English teachers often socialise together and are usually aware of the local job market.
TEFL Job Requirements
In order to work as a teacher in Korea you will require a well-recognised TEFL certificate and a university degree. You will also need to be a native English speaker from the UK, Ireland, the USA, Australia, New Zealand, Canada or South Africa. As long as you meet these requirements you should have little trouble finding a teaching position in Korea.
Korean culture is very different to western cultures so you need to have an open mind and a sense of humour if you are considering living and working here. You will need to be flexible when it comes to your working conditions as contracts tend to be just an outline of the job and changes occur regularly. Some teachers find that the high rates of pay compensate for these inconveniences, while others find it harder to adapt to the working culture.
Questions to Ask your Employer
Before you accept any job offer, there are a few questions you should always ask to avoid any unpleasant surprises once you start work. Obviously, you need to ask questions regarding your salary or hourly pay rates, as well as any levels of compensation for travel time and expenses that might be available. You should also enquire about the availability of school resources for lesson planning and teaching materials. Other questions regarding the need for work permits or visas, as well as how much help the school will provide with this are also advisable.
Korea can be a great country to live and work as a teacher as there are always plenty of well-paid jobs available; also the country has much to offer in terms of culture, scenery and entertainment. If you choose to come and work here, you are sure to have plenty of fun while earning a good salary.
Apply now & get certified to teach english abroad!