Our Complete Guide to Teaching English Online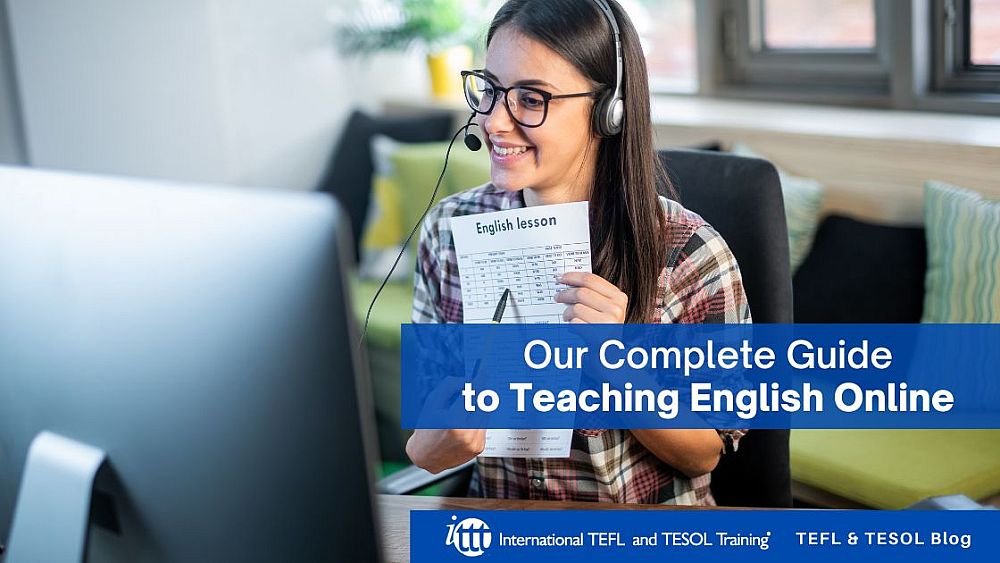 As we talk about teaching English online (TEO), let's first look at some of the basics of teaching English in this way. So, what does TEO generally involve?
Watch the video about this topic
Many TEO lessons are one-to-one (one teacher to one student) lessons while others are group lessons where you teach two or more students. They are typically delivered online via platforms such as Skype or Zoom or other similar platforms. Some of the larger companies may have their own internal platforms through which you teach.
TEO allows you to work from anywhere in the world and take command of your own schedule most of the time, which is really what a lot of people want in today's world. Being able to get away from the nine-to-five and just make your schedule and hours and have a little bit more freedom. You can literally make money from your couch. Almost anyone with a TEFL or TESOL qualification, a webcam, and a reliable Wi-Fi connection can find work online. Sometimes you don't even need a certificate, but with the huge surge in teaching English online, it has become pretty much the standard requirement. It is also possible to teach English online as a non-native English speaker.
The three main things you need to teach English online are:
A TEFL or TESOL qualification of at least 120 hours from an accredited course provider. It can also be very beneficial to take a specialized course that focuses on how to teach English online. There have been a lot of new courses like this introduced recently specifically for teaching English online. This is not usually required by employers.

The next thing you need is the right equipment, which is very important, and teaching platforms really look at this carefully as well. You will need to have a laptop or computer, a webcam, and a good headset. They are all an absolute must. Sometimes it's better to wear a headset with a microphone as it's going to be a lot clearer for the students to understand what you're saying. Often there is a humming sound from the computer that students can hear, which you can avoid by just having a headset.

You also want to make sure that the lighting is good. During the day, you may not need additional lighting, but sometimes if you teach students at night, then it's good to have a ring light that stands next to or behind your laptop. It's very important that your students can see your facial expressions when you teach English pronunciation, and they need to be able to see your mouth. If you teach children, you will want to get a variety of different props, such as a whiteboard, any kind of little toys, flashcards, and anything like that. These types of props can also be used with adults.
Additional requirements for some companies:
In addition to the above, you may be asked for some or all of the following: a. Have a degree-level qualification b. Be able to perform a speed test for your internet connection c. Have a background check from the police
Finally, let's take a look at what the online EFL market looks like at the moment and some trends that are happening at the time of writing. According to the British Council, around 20 billion people are learning English around the world, and this figure is increasing year on year. Add to this the increasing access to the internet, and these factors mean that the EFL teaching market can expect to grow into the foreseeable future. Already, a lot of new and interesting platforms are showing up that make use of virtual classrooms. Things like unlimited video conferencing, real-time auto-translation capabilities, which includes real-time co-editing of project work, for example, and also smart calendar scheduling are all things that are improving the teaching and learning experience.
The two main types of online teaching.
One way is online platforms where you're working for a company, the other one is teaching independently, where you post your profile on a platform and students can choose you as their teacher. There is also a third option which is being fully independent.
1. Online platforms
The main positive of working for an online platform is that you can easily connect with students because they already have a huge student base. You also have access to lesson material; a lot of online platforms will have their own curriculum. On the minus side, there can be lengthy application process for these online platforms, so it takes time to get started with them. During the application process you will probably have to do a mock lesson and have an interview. You should also be aware that they take a cut of your pay in the form of a commission.
### 2. Online marketplaces If you're teaching for a marketplace or you have your profile set up on a market place you basically need to attract your own students. They need to book you and you need to advertise. Some positives, you can make your own price, decide the kind of lessons that you want to teach. You do not have the back-up of a company behind you, so this is perhaps a better option once you have some experience.
3. Fully Independent online teaching
You might have your own website or your own social media channel and you advertise through that. There are lots of positives, you can set your own prices, and you can teach your own lessons, whatever you want. However on the downside, it needs a lot more advertising effort, so you need to promote yourself and you need to get yourself out there versus on the platform where you already have access to all of those students. Also there will be some set-up costs involved, as you might need to create a website, print business cards and you might have to pay for some advertising online to get students, or access to different groups.
The Pros and Cons of Teaching Enlgish online
The pros
Flexible working hours: depending upon how you structure your timetable.
Potential for a great work and life balance: You may like to work in the mornings and early afternoons or you may prefer evening work. You can decide when you have 'your weekend'
A good earning potential it's basically you know how much effort you put into you also get back so you can decide essentially how much you want to make right how much you want to teach.

If you are someone who's maybe interested in teaching abroad later, you could start with teaching English online get experience.

The start-up costs for teaching English online are relatively small you only need a few things you can literally work from your couch your home your office room.
The cons
Obviously it's a variable income: That means every month will be different, your income always depends upon how many students you have that month.
In the first few months you probably won't have that many students: it takes time to build up your client base, it may take some months before you are earning what you hoped for.
If you work from home all day every day it can get lonely: especially if you're a very social person. If possible you may just sometimes go out work from a café, if it is generally quiet and has a good internet signal.
Working from home means you need to take care to stay healthy: obviously if you're just sitting in your house the whole time you need to make sure you take time out for exercise.
If you work in a office away from your house you have very clear separation of work and home life: You need to be careful to maintain this separation in some way, otherwise you can end up working all hours.
1. How much can you earn teaching English online?
This really depends, if you teach for a platform upon how much the platform pays their teachers. Typically they pay by the hour and an average hourly rate for online English teachers ranges from US$10 to US$30. It can be more on some platforms and if you work independently you can make your own prices, so you may be able to earn more than that. However, if you are independent, you do need to make sure that you are competitive. You need to able to justify your price, with information such as; you have a lot of experience, a high level of qualifications and so on. For platforms you typically get paid once a month on a specific date, when the company pays out to all of their teachers. You can be paid either by a bank transfer or by PayPal or some other similar payment system.
2. Which platforms hire online English teachers?
The following companies hire teachers to teach English Online. The hourly pay rates were correct at the time of writing (2022):
Platform: Whales English
Pay: $18-$27 per 50-minute class taught plus performance based bonuses. Website: www.whalesenglish.com
Platform: GoGoKid Pay: Up to $25 USD per hour * Check for latest updates Website:
Platform: Landi English Pay: $10 – 18 USD per hour Website:
Platform: Cambly Pay: $10.20 USD per hour Website: Easy Online sign-up for tutors at www.cambly.com
Platform: VIP Kid Pay: $14-22 USD per hour Website: https://teach.vipteacher.com/teach
Platform: Qkids Pay: base pay of $16 per hour Website: For North American teachers https://teacher.qkids.com/
Platform: Palfish Pay: $10 USD to $18 USD per hour Website: https://www.ipalfishclass.com/#/
3. Where should you look for jobs?
If you have not read the first two parts to this series then have a look through those, where we discuss a number of places where you will find online teaching jobs. To finish this section we will look at some other big companies where jobs are posted.
Indeed.com https://www.indeed.com/q-Online-English-Teacher-jobs.html
ESL JOB STATION https://esljobstation.com/
Dave's ESL Café https://www.eslcafe.com/jobs/international
ESL boards https://www.eslboards.com/jobs
ESL Teacher Recruitment https://eslteacherrecruitment.com/
4. Setting up to work independently
There are a number of things to consider before you launch into your own business.
a. Do you have the physical tools needed for the job?
This would include a laptop, a high speed and stable internet connection, a camera/microphone system and a comfortable and quiet place in which to conduct your lessons.
b. Do you have the skills to create your own website?
There are a number of proprietary companies from whom you can build a website from scratch using their templates, or you can opt to pay for someone to set up your site instead. A website is needed in order to promote your business and allow it to grow. Alternatively you could just post yourself onto as many ESL teaching marketplaces as you can afford.
c. Do you know the employment and taxation law of the country in which you are going to be based (or teach)?
It is very important that you make yourself aware of both these areas, as you could be in for some nasty surprises later, when you suddenly receive an additional tax bill from a country that has a dual taxation law you were unaware of.
Are you ready to teach English as a foreign language?
Apply now & get certified to teach english abroad!
Speak with an ITTT advisor today to put together your personal plan for teaching English abroad!
Send us an email or call us toll-free at 1-800-490-0531 to speak with an ITTT advisor today.
Related Articles:
Check out what our course grads say in our many video testimonials!