Top 5 ESL Teacher Strategies for Your Online Classes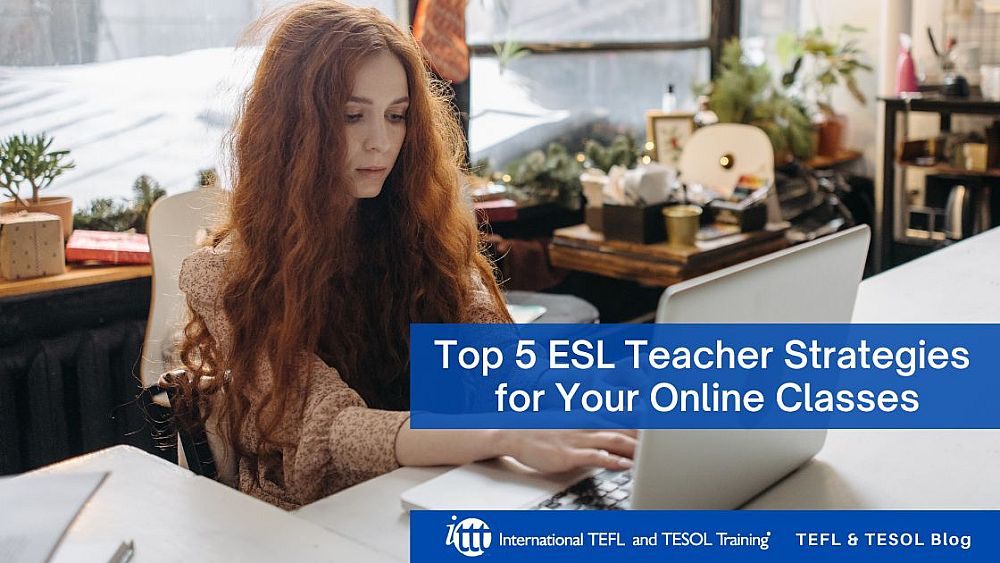 In this blog post, we will look at five strategies you can use t boost your effectiveness within the class and also as a general way of increasing your online business. Ideas covered include the use of gamification and individualization.
Watch the video about this topic
Gamification
This idea isn't new but not many teachers appear to try to apply it to their online classes. There are several reasons why you should try it. (Especially as the majority of online classes are for young students). First we should define gamification: We may define it as a teaching strategy that involves play, integrated with clear learning objectives and outcomes.
It can help to engage students with content better, allows them to get more motivated and engaged during the lesson and during the course as well. If you have a sequence of classes which are somehow connected with each other, you can link the games through this sequence. It is fun and interactive and gamification helps to create an excitement for learning. It can work not just with younger students but with adults as well. It is important to keep the definition in mind however and to appreciate that gamification is not about playing any game at any time. It must be structured and have a teaching point and if there is a teaching objective then there should be a measurable outcome.
Individualization
You should make an effort to get to know something about each of your students. In this way you can make sure as a teacher that you deliver classes that are relevant to your students. Even though you work with groups you still want to craft your lessons and your course to some specific needs. A simple example of this is when using book activities, the worksheets provided often have people's names, if you can change those names to some of the student's names, this will add humour and individualize the activity. You also have to take account of your student's personalities and student's needs.
If you work with one-on-one students then individualization is easier to achieve but the above points are still valid, you need to get to know your student and also adapt activities to suit them. If you research the ESL online teaching market you would see that there are actually a lot of lessons that are crafted specifically for individuals. It is a common trend of online schools that have more resources to provide something like that.
Charting your course
What this means is you have to provide a better understanding of what you are going to do with your student/s. A quick example: there are a lot of English teachers on online sites who offer their services but never specify the path the student will be taking. This is a mistake because students even if they are interested in studying, sometimes they still don't know why they need to do it and you as a teacher are there to explain it to them. Maybe there is this specific clear goal for which you will have these specific milestones or benchmarks and they will do it with this amount of effort, or it will be done in this way and not in that way.
This describes how your course is organized and when you offer this service you will be able to promote your services on a teaching marketplace. Your potential clients will see some of the benefits of why they should work with you. Make sure you prepare some specific goals or maybe you even set those goals together with your students. For example it might be a nice idea for the introductory class, when you get to know your students for the first time. Make sure that the students will come back next time, if you can offer to set those goals that are important and meaningful for them and then you can highlight some of the key points that they will look at together with you and so on.
Strategies of content delivery
According to some research, our attention span in an online class is just about seven minutes compared to attention span of eighteen minutes in a real classroom, so there is this huge gap between studying online and studying in a real classroom. We all tend to lose our attention and when it comes to teenagers and younger students they will probably be focused on your lesson for five minutes or so even less before losing attention. One strategy can use is 'varying the stimulus'. What this means is that when you create the content of the lesson you will come up with some exercises, which you need to make sure you provide in different ways. Not just multiple choice activities, but different question style formats and at the same time you have to make sure that there are many different task styles in your toolbox when you deliver your classes.
Narrowing down your niche
What we mean by a niche, is what you offer as an English teacher. Most teachers tend to work with general English. This is all right in terms of getting your first experience but we recommend that you narrow down your niche as soon as possible and don't focus on the general group. It may be better to offer something which is specific and which targets a smaller audience. So for example if you like to work with young students, but not with adults then make sure you offer your services to young students only. If you want to you can narrow down even more and find something that is important for your young students, and offer that to them. An example might be offering teenagers exam preparation. Make sure you try to narrow down your niche and eventually you will see that it works really well in terms of increasing your hourly rate and as a consequence your income.
Are you ready to teach English as a foreign language?
Apply now & get certified to teach english abroad!
Speak with an ITTT advisor today to put together your personal plan for teaching English abroad!
Send us an email or call us toll-free at 1-800-490-0531 to speak with an ITTT advisor today.
Related Articles:
Check out what our course grads say in our many video testimonials!