TEFL Jobs in Chile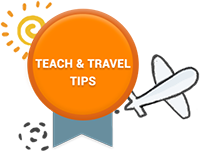 Compared to some other Latin American countries, Chile's economy is in a very healthy condition which has led to a growing demand for TEFL qualified teachers. This growth in demand has been most noticeable in the areas of business English teaching, as well as teaching English to young learners. Chile has plenty of private language schools throughout the country, particularly in the capital city of Santiago. Because of these factors, teachers who have a quality TEFL certificate should have little trouble finding a teaching position.
How to Find TEFL Jobs in Chile
Many schools in Chile tend to advertise their available jobs on the major TEFL job websites. If you are planning to look for work in Chile it is a good idea to contact these schools at least six months before you intend to arrive. You should also make sure that your resume is up to date, professional looking and contains all the relevant information required, such as your educational background, TEFL qualifications and any teaching experience that you have had.
In Chile you should not restrict your search to just the schools that are actually advertising teaching jobs, you should also contact other schools directly. Contact information can be found in various forms of media such as local newspapers, white pages and online language school directories. If these schools have nothing available at the time, do not give up because things can change quickly. You should keep a note of the schools you have contacted and then check with them again at regular intervals.
When to Apply for a TEFL Job in Chile
The school year in Chile begins towards the end of March so you should have your applications sent in by the previous October, however, you should be aware that you may not hear back from them until the New Year. Also, many of these pre-arranged jobs may fall through so often schools will be looking for late replacements right up until the start of the school year.
If you are contacted by a school they will then require an interview, either in person or sometimes by telephone. If you are subsequently offered the job you need to decide within a day or two as schools tend to require a quick response.
TEFL Job Expectations
Before you begin your new TEFL job in Chile you should make sure you are fully aware of your salary or hourly pay, any compensation that is available for travel time and expenses, as well as what resources are available for lesson planning and teaching materials.
To obtain a work permit in Chile it is necessary to have a job contract so it is advisable to ask the school for any help that they can provide. Obtaining a work permit can be a lengthy process but most schools should be able to help you to at least extend your initial visa. Many schools in Chile also provide their own teacher training program, however, this requirement is usually avoided if you possess a 4 week on site or 100 hour online TEFL certificate.
Class sizes in Chile can be anything from a single student to a class of 12, while teaching hours often vary from early in the morning to later in the day leaving you plenty of time during the daytime to plan lessons, have a siesta or take part in local activities.
Apply now & get certified to teach english abroad!