TEFL Jobs in Mexico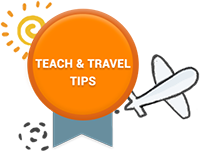 Mexico has high demand for TEFL teachers. You will find jobs available in most towns and cities across the country so if you are a native English speaker with a TEFL certificate should have little trouble finding a job that suits you. If you have a background in the business world or are experienced in teaching business English you will have an even wider choice of jobs, particularly in the larger cities.
How to Find TEFL Jobs in Mexico
As many teaching positions in Mexico are advertised on TEFL related websites, it is often possible to secure a TEFL job before you arrive in the country. Sometimes you will be able to arrange an interview by telephone, although face to face interviews are generally preferred by most institutes.
The vast majority of teaching jobs on offer in Mexico are based in universities and private language schools, although there are also some jobs available in government run primary and secondary schools. It is also possible to find good quality jobs in the private business sector.
Teaching jobs in Mexico's universities generally pay well and provide good benefits on top of the basic salary, however, this can vary depending on which university you work for so you need to do some research before accepting a position.
The most plentiful job market is certainly the country's many private language schools. The salaries on offer are generally less than those paid by universities but jobs are easier to find in this field and extensive experience is not usually required.
TEFL Job Requirements
Qualification requirements for teaching in Mexico do vary depending on the institute that you are working for. A TEFL certificate will sometimes be enough to secure employment in one of the larger language schools; however, a university degree will usually be necessary if you are applying for one of the better jobs on offer. If you are looking to work in one of Mexico's many universities you are likely to need a Master's degree in education or TEFL.
Apply now & get certified to teach english abroad!