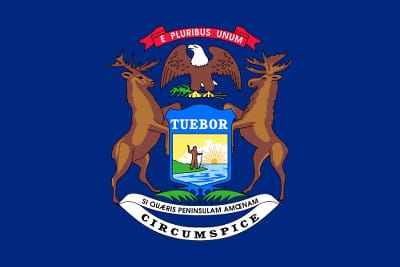 Michigan is located in the famous Great Lakes region and is a very popular destination for visitors from far and wide. 'The Great Lakes State' is the 10th most populated state in the US and the only one that consists of two individual peninsulas. On the Upper Peninsula you will find some of the best outdoor activities to be found anywhere in the country. Trekking, hiking, horseback riding, fishing, and boating are definitely the order of the day. If you are looking for a little more horsepower, simply rent an off-road vehicle and enjoy the natural wonders from behind the wheel. Michigan is certainly a place where you can enjoy the outdoors in many different ways.
Michigan is home to a staggering number of state forests and national parks. That is why people come here in large numbers to escape the hustle and bustle of the city and to get a real feel for the natural environment. It is not rare to spot deer, hares and other forest wildlife while engaging in outdoor activities throughout the state. The parks are not only rich in natural beauty, but also feature a varied collection of sculptures, landmarks, and museums that are well worth visiting. Some people say Michigan's parks are the perfect place to watch a beautiful sunset.
Winter sports are also big in Michigan as it has some of the best skiing, snowboarding and snowmobiling trails in the world: over 6,500 trails to be exact. Roughly fifty ski areas feature over 260 lifts and 1,000 unique slopes. If you want to take a break from downhill skiing, you can test your fitness on over 3,000 miles of cross-country skiing trails. Add to that the thousands of ice covered lakes across the state's national parks, and you have a truly memorable wintertime experience.
Michigan is a diverse state that has something to offer everyone. Adding to the unrivalled natural scenery, the state's many museums, waterparks, wineries, lighthouses, and zoos make Michigan the perfect place for a long vacation. One of the most interesting sites is Mackinac Island, a place that seems to be stuck in time. Horses replace cars here and almost all the businesses and restaurants are family owned. Another attraction that draws people here are the many landmarks from the Revolutionary era that are a rare find elsewhere today.
Besides Michigan's unique natural beauty and historic landmarks, the state also offers some of the best education in the country. If you decide to come to Michigan to take your TEFL/TESOL course, you will not be disappointed. After completing the course, you will hold in your hand an internationally recognized teaching qualification that will allow you to immediately start your ESL adventure anywhere in the world.
Register now & get certified to teach english abroad!