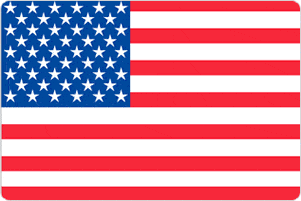 Beautiful natural landscapes along the river, state-of-the-art galleries and exhibition halls as well as a premier nightlife and entertainment selection are what make Ann Arbor an exciting destination. If you choose our training center in Ann Arbor, Michigan, you will not be disappointed. This is the perfect location to start your international teaching career. The University of Michigan is among the best educational institutes in the country and does not only offer high-quality education but is also specialized in the high-tech field. During our extensive in-class tefl/tesol course, you have the opportunity to work with experienced teacher trainers and explore the city and its exciting surroundings to the fullest. Whether you are a sports fan, an outdoor lover or a culinary enthusiast, Ann Arbor has something in store for everyone!
The first thing you will notice when coming to Ann Arbor is its ideal location on the Huron River. Watersports and outdoor activities are popular among the population and young and old join in on the fun. The Huron River is the perfect place to go swimming, catch some fish or even try out kayaking or canoeing. The peaceful riverbanks also encourage relaxing picnics in the warmer months of the year. Besides water activities, you can also find premier hiking and biking trails along the river and in the forests and mountainous areas in and around the city. The Michigan Wolverines, the local football team, competes in the local stadium, which gets filled with people from across the country during football season. Here, every Saturday, people from near and far come to Ann Arbor to watch the best football teams play in "The Big House" stadium.
After the games, many people enjoy a cold brew at one of the city's eight independent breweries. The most famous establishments include Wolverine State Brewing Company, the name givers for the local football team. However, you should also try the Arbor Brewing Company, Grizzly Peak, Jolly Pumpkin, and Blue Tractor. Restaurants offering local and international cuisine can also be found in abundance. If you are looking for indian, Turkish, Korean, or simply a good old American diner, you will be happy here.
The location of our training center is within easy access of the city's best restaurants, nightlife, and entertainment areas, including art galleries and parks. Besides the great location, our training center is also equipped with everything you will need to successfully train as an esl teacher, such as copying and printing facilities, computers with internet access and modernly furnished classrooms. The teacher trainers at our Ann Arbor location have years of experience in the tefl/tesol world and have taught in many different countries. They will guide you through the entire course and provide you with helpful feedback allowing you to steadily improve your teaching skills. If you choose to join our in-class training course in Ann Arbor, you will not be disappointed!
Register now & get certified to teach english abroad!
The School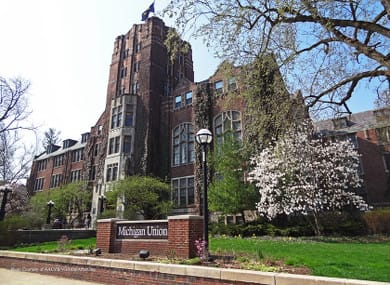 The city of Ann Arbor in Michigan is a beautiful place to take your TEFL/TESOL course. Located amongst a collection of stunning lakes, the city is often referred to as "North America's Fresh Coast". Besides kayaking, swimming and fishing, people also enjoy hiking and biking amongst its dune lands and cliffs. As you can see, there is little you cannot do in Ann Arbor, which makes for the perfect location to start your TEFL/TESOL journey.
The experienced teacher trainers at our center provide assistance throughout the entire course. Located in the middle of town, our training center is close to major attractions, restaurants and shopping facilities.
Take a deeper look into the city's culture and history by joining the famous Blue Coast Artists Cultural Heritage Tour, where you can explore farms, wineries and craft shops. Those who are interested in architecture will find that Ann Arbor is filled with beautiful buildings from the 1860s period, as well as a famous red sculpture symbolizing the artistic mind of the city.
The class size of our TEFL/TESOL program never exceeds 10 trainees, which makes it possible for the trainers to focus on everyone's individual needs to ensure the best results. Towards the end of the program, trainees have the opportunity to teach their own classes. These take place in the third week of the course on Wednesday from 5:30 p.m. to 10:00 p.m., and Saturday and Sunday from 9:00 a.m. to 5:00 p.m.
Accommodation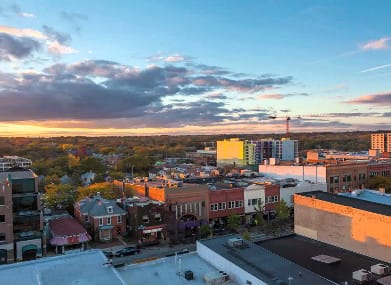 If you are looking for an exciting place to obtain your TEFL/TESOL certification, take a close look at Ann Arbor. This city in Michigan is home to a renowned university and students from across the country come to study here. Tourists, too, enjoy spending time in Ann Arbor during all four seasons. Whatever the time of year, you can always find comfortable and affordable accommodation in Ann Arbor.
We are happy to recommend two specific hotels to our TEFL/TESOL trainees. The first option is the Wyndham Garden Ann Arbor offering complimentary breakfast and internet access. This hotel also has a swimming pool and a café. Our second option is the Bell Tower Hotel with free breakfast included. These hotels both offer good prices and are located near our training center.
Please let us know what type of accommodation you would like to book for your stay in Ann Arbor. We are happy to make arrangements for you at these or other housing options.