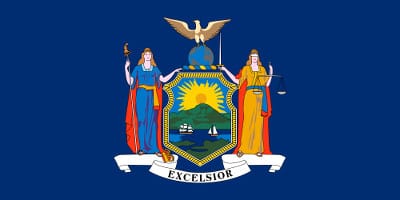 Known as 'The Empire State', New York has a long and rich history due to the huge waves of immigration that have entered the USA through its' ports. In total, more than 10 million people have begun a new life after arriving in New York in search of their own version of the American dream. Today, New York is still one of the most diverse states in the country with a population made up of many different backgrounds and cultures.
The northern part of New York features beautiful natural landscapes that are worth visiting in all four seasons. Adirondacks is a popular vacation destination as it is located on the shores of Lake George. Here, outdoor enthusiasts can camp or stay in cabins at stunning lakeside resorts. Not far from the lake lies Whiteface Mountain, the perfect destination for hikers. Here, you can enjoy the breathtaking surroundings on foot, or hop on the scenic gondola called the Cloudsplitter. Letchworth State Park is another popular scenic feature of upstate New York. The national park is home to beautiful waterfalls which can be explored via over 60 miles of hiking trails.
The Niagara Falls are one of the most visited attractions in the state. Close to the Canadian border, the falls offer splendid views of the surrounding areas, including the city of Buffalo and two of the Great Lakes. Visitors also have the chance to join a boat tour and sail to the very edge of the falls. You can also explore the many walkways and viewpoints, including the famous 'Hurricane Deck' where you are only a few feet from the waters edge.
New York City is probably the most famous city in America as it has featured in countless movies and TV shows. The 'City That Never Sleeps' is truly a must see. The city is divided into five distinct boroughs: Brooklyn, The Bronx, Queens, Staten Island, and Manhattan, and each borough is unique in its own way. It is no secret that NYC is a world center for fashion, and you will find some of the best shopping opportunities right here. On top of that, the city is also a wonderland for history buffs. Countless museums and galleries display a wide array of ancient and modern artworks and artifacts. Broadway is the place to see some of the best musicals, plays, and other performances available anywhere in the world. As you can see, New York City is everything you have heard about, and much more.
Some of the best universities in the country are also to be found right here in New York. Stony Brook University, New York University, Columbia University, and the University of Buffalo are among the best in the region. Join our training course in New York and you will receive one of the most respected TEFL/TESOL qualifications in the industry. Upon completion, you can move on to become an English teacher all around the world.
Register now & get certified to teach english abroad!