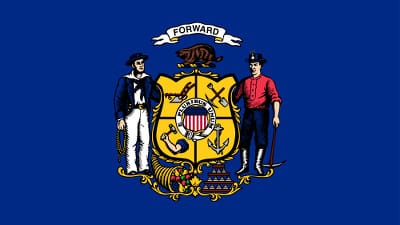 Wisconsin is a state rich in natural beauty and history. Located in the Midwest of the USA, south of the famous Great Lakes, the landscape of Wisconsin is lush and diverse. It is not hard to see why Wisconsin earned the title 'America's Dairyland', as it is home to the country's most renowned dairy products, cheese being the most famous. Wisconsin is a particularly great place to escape from the city rush by hiring a cabin in the woods. Hike around lakes, climb waterfalls, or simply relax in the peaceful atmosphere of the countryside. Whatever you are looking for, you will find it in Wisconsin.
The area around Lake Superior is a wonderland for outdoor enthusiasts. Some of the best outdoor activities include biking and hiking in Chippewa Valley, and enjoying a great day out kayaking the Apostle Islands. Water sport fans will also find great pleasure in visiting the northeastern region of Wisconsin. Here, you can engage in all kinds of fun activities. Take out a boat and go fishing, whitewater paddling or water skiing on one of the many lakes and rivers in the region. You can then end your day relaxing beside a fresh stream in the middle of a forest while watching the sunset.
The southern part of the state features a landscape shaped by deep glacial valleys. On the banks of the Mississippi River in West Wisconsin, you will find lush nature and small towns and villages straight out of a storybook. Here, you can get a real-life insight into the state's long history and culture. Wisconsin is not only home to mountains and forests, as it also has sandy beaches and old lighthouses that add a nautical theme. The lakeside towns have some of the best restaurants in the state offering fresh seafood and other local dishes. Lake Winnebago is also a popular area, where relaxing spas, racetracks, and golf courses make for the perfect location for a fun getaway.
The South Central Region of Wisconsin is home to the state capital of Madison, and is also known as the 'Waterpark Capital of the World'. Wisconsin Dells is a collection of water themed amusement parks that offer a great day out of fun in the sun. This region also features several historical sites that are well worth a visit, including the beautiful and iconic Capitol Building, Old World Wisconsin, Sylvanus Wade House, Madeline Island Museum, and Stonefield.
As you can see, Wisconsin is a great place to explore nature and history. However, the state is not only a great location for your next vacation, but also a center for education in the area. Various universities, including Marquette University, the University of Wisconsin, and Concordia University give hundreds of thousands of students the opportunity to study in a great variety of fields. Taking your TEFL/TESOL course in Wisconsin will open the door to unlimited opportunities for teaching English abroad.
Register now & get certified to teach english abroad!