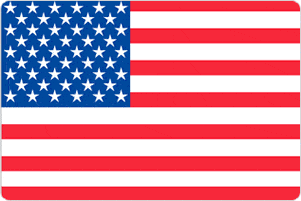 As the state capital of Arizona, Phoenix is a vibrant city that provides the perfect base for completing a tefl/tesol course. Due to its location in the Sonoran Desert, the city of Phoenix enjoys a warm and dry climate throughout the year. As well as the pleasant weather, the city is also ideally situated for exploring this fascinating region that is home to some of the most beautiful national parks in the country including the mighty Grand Canyon. Don't worry if you are not keen on outdoor adventures as you will find plenty of other things to enjoy in this modern and lively city.
Although the area has been home to Native Americans for over 2000 years, the modern city of Phoenix has a relatively short history. Founded in the 1860s, the city was small and mostly overlooked until it was named as the capital of the newly created state of Arizona in 1912. Over the next few decades the city's population grew at a rapid rate as people were drawn from right across the country by the prospect of good jobs and a better quality of life. Today the city continues to draw visitors from far and wide thanks to its favorable climate and stunning natural surroundings.
Although Phoenix is a popular base for exploring the national parks and enjoying the many outdoor pursuits on offer in the area, it also has plenty of attractions within the city limits. Sports fans will be spoilt for choice as Phoenix is one of only 12 cities that can claim to have a team in all four major sports leagues. The city is also famous as a golfing destination, with no fewer than 200 courses to choose from. If you prefer more leisurely pursuits you might enjoy the Phoenix Botanical Gardens and the peace and tranquility on offer at the japanese Friendship Garden.
After a busy day in the classroom you will have no shortage of dinner venues to choose from as Phoenix boasts a huge variety of cuisine from all over the world. Thanks to the city's population boom you will find all manner of food represented including japanese, thai, Korean, vietnamese, italian, french and spanish. However, due to its location in the southwest of the country, the city is most famous for its fabulous mexican cuisine that is available at countless outlets all over the city. Whatever your reason for choosing Phoenix as the destination for your tefl/tesol training course, you will not be disappointed.
Register now & get certified to teach english abroad!
The School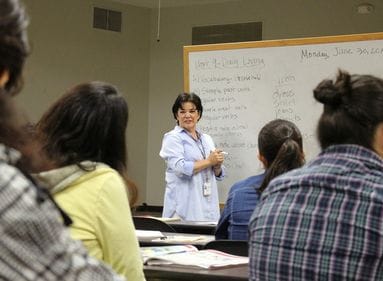 Our TEFL/TESOL course in Phoenix, Arizona is based in a language center located just a short walk or bus ride from the busy downtown area. This convenient location means you are always close to the public transport network that links us to all the city's main attractions. If you are coming from further afield, Phoenix Sky Harbor International Airport is also close by and easily accessible from the training center.
The home of the course is a busy language center that has multiple classrooms and all the equipment you will need to successfully complete your training. There is Wi-Fi internet available throughout the building, photocopying facilities and plenty of resources for use in the classroom. In breaks between classes you can take advantage of our complimentary drinks area and small snack shop, while the surrounding neighborhood has plenty of shops and other facilities.
The TEFL/TESOL course in Phoenix runs from 5:30 p.m. to 10:00 p.m. Wednesday to Friday and from 9:00 a.m. to 5:00 p.m. on Saturday and Sunday. The number of participants on each course is limited to around ten to ensure that everyone gets their fair share of assistance from our professional teacher trainers. As we are based in a working language school you will also have plenty of opportunity to practice all the skills you have learnt in a class of real English language students.
Accommodation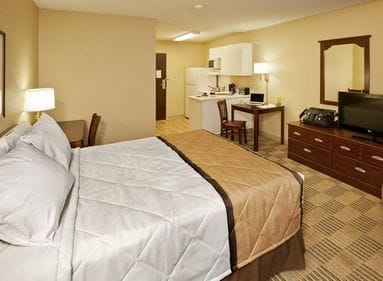 If you decide on Phoenix as the base for your training course you can choose to stay in whatever style of accommodation suits your personal preference. The city has plenty of good quality hotels, guest houses, apartments and hostels to suit all budgets. One option that we are happy to recommend is an apartment style complex that is conveniently located within easy reach of both the training center and the city's airport. This well-situated option has been popular with many of our previous students and offers comfortable accommodation at reasonable prices.
Our recommended accommodation features suite style rooms that include a fully-equipped kitchen complete with refrigerator, stovetop, microwave and coffee maker. You will also find all the utensils you need to prepare your own meals throughout your stay. The accommodation also includes a 'grab-and-go' breakfast, Wi-Fi internet and access to laundry facilities. Further information on accommodation will be provided on completion of your course booking.